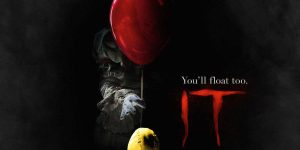 The film It, talks about a group of kids trying to survive to they worst fears, facing "Pennywise" a creature that will transform on your worst fears. It are a film\book by Stephen King, a popular horror book writer, in fact, this film, obviously, were based and inspired by the book.
The film was directed by  Andy Muschietti. He made films like: " Mama", a horror movie in 2013 and he will direct the second chapter of It in 2019. It (film) will be separeted in two parts.
The film stars with: Bill Skarsgard ( Pennywise), Jaeden Lieberher ( Will Denbrough) and Sophia Lillis (Beverly Marsh) and it co-stars with: Wyatt Oleff, Jeremy Ray Taylor, Finn Wolfhard, Jack Dylan Grazer and Chosen Jacobs.
"It" is a horror movie, that starts in Denry, a city in America, under atack by Pennywise, the monster that eat kids and taste then fears. When Georgie, a little kid is missing, the goup " The Losers" have to figth back with Pennywise and finish the deaths in Denry.
The plot is so catching and sometimes its a little bit funny. The plotmade me feel into the movie, like i was made part of "The Losers". The violence, the jokes, the jumpscares are so good, that it looks like its real. The movie got GREAT actors like Bill Skarsgard and Sophia Lillis and "It" includes theactor from "Stranger Things" Finn Wolfhard. The movie its slow, it got 2 hours, but, it worth it…
And the eding is really cool.
I recommend it to everybody that likes horror movies and loves a good story our likes Stephen King art.If you had a change, see this amazing film!